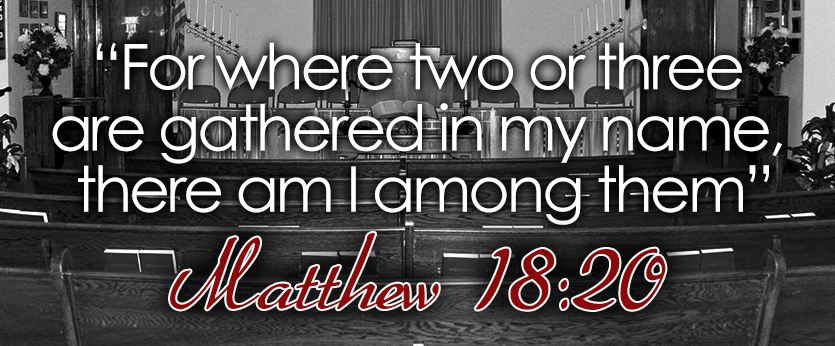 We thank you for considering to join us as we worship God. We know that attending a church for the first time, or the first time in a long time can be an intimidating experience. Our hope however is that you will feel welcome as you visit our church. We are simply a group of believers who congregate for worship and fellowship. There is no need to feel as if you need to impress us or worry about fitting in. We are all sinners and we all need to seek redemption through the sacrifice of Jesus Christ.
What is the Church?
The church is simply a group of believers whom congregate to learn about and worship God. The Bible is clear that we should attend church and not neglect it like others do.
Hebrews 10:25
"not forsaking our own assembling together, as is the habit of some, but encouraging one another; and all the more as you see the day drawing near. "
What Should I Expect?
Attending church may be scary to some whom are planning on visiting but it shouldn't be. Our worship service is simply praising God through music (hymns and worship videos), learning about God through the sermon, and receiving an offering to be used to support the church and glorify God. Our worship service begins at 11:00 A.M. And will conclude at 12:00 P.M.
Why Do You Collect an Offering?
You may be curious as to what an offering is and why we collect an offering during the worship service. An offering is simply a contribution of money to the church to be used for many budget items and programs. The money is also used to support missionaries that are spreading God's word and His message of saving grace around the world. More importantly we collect an offering because God commands us to as an act of obedience to Him, and it shows we truly trust that He is the Lord of our lives.
Luke 6:38
Give, and it will be given to you. A good measure, pressed down, shaken together and running over, will be poured into your lap. For with the measure you use, it will be measured to you.
Where Can I Park?
There are three parking lots in which you can park your vehicle. There is one parking lot directly across the street from the church and there is one parking lot directly next to the church (north of the church). Lastly there is a parking lot directly behind the church which has a handicap accessible entrance with a ramp.
Should I Bring Anything
No you are not required to bring anything, but we do however encourage you to bring your Bible. However if you don't have a Bible or you forget to bring yours we do have Bibles in the pews at the church.
Additional Questions
If you have any additional questions you may contact us by e-mail at contact@calhounbaptist.org.